Date: Monday 14th to Wednesday 16th March 2016
Venue: University of Malawi, College of Medicine
Organised by: Department of Mental Health, College of Medicine, University of Malawi, Scotland-Malawi Mental Health Education Project (SMMHEP)
Funded by: Scottish Government Malawi Development Fund grant
120 delegates from Malawi, Ethiopia, Uganda, United Kingdom, United States, Zambia and Zimbabwe included nurse clinicians, nursing officers, psychiatrists, psychiatric trainees, social workers, occupational therapists, medical students and members of the Mental Health User and Carer Association (MEHUCA).
The Conference started with an opening prayer led by Mr Simon Thom, of the Mental Health User and Carer Association of Malawi. Guests and participants were welcomed by Dr Stefan Holzer, Head of the Department of Mental Health, UNIMA. Prof Douglas Blackwood, from the University of Edinburgh described the support given to the conference by The Scotland Malawi Mental Health Education Project, through funding from The Scottish Government. Dr Neil Kennedy, Dean of the Faculty of Medicine, UNIMA, spoke of the quality of the psychiatry teaching on the MB BS course. Prof Victor Mwapasa, Post Graduate Dean in the College of medicine, described post graduate training in Mental Health as a priority. He welcomed the recent award of a grant from the African Mental Health Research Initiative (AMARI) that will help to build a research base in Malawi by funding PhD and MPhil students and also establish valuable academic links with Ethiopia, South Africa Uganda, and Zimbabwe. Dr Mwapatsa Mipando, Principal of the College of Medicine described the growth of the College of Medicine since its founding 25 years ago. In 1991 there were 12 medical students in the first intake. 120 students entered the MB BS course in 2016. Over 650 doctors have graduated from the college and mental health is a required part of training. This year marks another landmark as the first MMed trainees will complete their specialist training in psychiatry. Dr Charles Mwansambo, Chief of Health Services in the Ministry of Health, made note of recent changes that enable central hospitals to become teaching hospitals.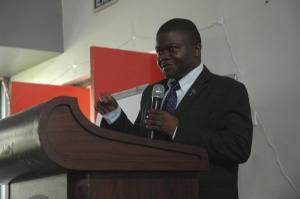 The guest of honour, the Minister for Health Dr Peter Kumpalume, spoke of the importance of raising public awareness of mental health, which, according to the World Health Organization, accounts for 14% of the global burden of disease. Some 90% of patients admitted to Zomba Mental Hospital are diagnosed with a schizophrenia related illness, but an even greater burden of disease is due to depression in the community. Mental health services in Malawi are severely underdeveloped to cope effectively with this level of disability. Mental Health and Wellbeing is included, along with other noncommunicable diseases, in the UN Millennium Development Goals 2015, and in Malawi it is aimed to focus on these goals to build sustainable resources to recognize, treat and prevent these common disabling disorders.